Latest News Releases:
ISSUED BY: GCIS Communications Command Center
SOURCE: DOJ Office of Public Affairs
30July2010 9:55amPDT
GCIS INTELLIGENCE UPDATE:
Agency Chief FOIA Officers Respond to the President�s and Attorney General�s Call for Transparency
This year, for the first time, all agencies subject to FOIA were required to submit Chief FOIA Officer reports. In those reports, agencies were asked to describe the steps they had taken to improve transparency in accordance with the President�s FOIA Memorandum, and the Attorney General�s FOIA Guidelines. The department�s Office of Information Policy (OIP) has analyzed and prepared a summary of the reports. The reports show that more documents have been released, more information has been made available on websites, and backlogs of pending requests have decreased in the past year.
�These 94 agencies have taken significant steps forward in providing the American people with the transparency they want and deserve,� said Attorney General Eric Holder. �Much work needs to be done in the effort to open up the government�s FOIA process and improve its efficiency, but these results indicate we have made important strides in the right direction.�
Among the results:
All agencies reported progress in implementing the presumption of openness, with over half having that progress rated as �remarkable.�
Almost half of the ninety four agencies reported divulging documents in discretionary releases � i.e., the documents were requested under the FOIA and the agency could legally have withheld information, but chose not to. Over half looked for opportunities to do so.
More information is being released to FOIA requesters. In Fiscal Year 2009, the number of responses with released records, either records released in full or in part, increased overall. The number of partial releases increased by approximately 50,000 documents.
89% of agencies reported proactively disclosing material on their websites � i.e., producing material that has not (yet) been requested by the public.
95% of agencies, including all Cabinet agencies, can receive FOIA requests electronically, rather than merely via snail mail or other non-technological methods. 91% track the requests electronically as well.
60% of agencies either had no backlog in processing FOIA requests or reduced that backlog in Fiscal Year 2009. 85% reduced the age of the oldest request or had no backlogged request to close.
[Image: DOJ Blog]
Georgia Defense Contractor and Its President to Pay $750,000 to Resolve False Claims Act Allegations
WASHINGTON � Quantum Dynamics Inc, located in Macon, Ga., and its president, Audrey Price, have agreed to pay the United States $750,000 to settle claims that they fraudulently obtained contracts from the Army, the Justice Department announced today. The contracts had been set aside for companies that qualified for the Small Business Administration�s Historically Underutilized Business Zone (HUBZone) program. Quantum was allowed to participate in the HUBZone program based on false statements made to the government.
Under the HUBZone program, companies that maintain their principal office in a designated HUBZone and employ 35 percent of their workforce from a HUBZone, among other requirements, can apply to the Small Business Administration (SBA) for certification as a HUBZone small business company. HUBZone companies can then use this certification when bidding on government contracts. In certain cases, government agencies will restrict competition for a contract to HUBZone-certified companies.
The United States alleged that Quantum did not actually maintain its principal office in a designated HUBZone location in Washington, D.C., as they had represented to the Army and the SBA, but rather set up their office in a Virginia suburb. Additionally, the government alleged that Quantum Dynamics did not employ a sufficient percentage of employees who lived in a HUBZone. Despite not properly qualifying for the HUBZone program, Quantum Dynamics was awarded Army contracts that had been set aside for qualified HUBZone companies based upon the false statements they made to the Army and the SBA.
"The Department of Justice is committed to rooting out fraud in government contracting programs," said Tony West, Assistant Attorney General for the Civil Division of the Department of Justice. "We will take action against those contractors who seek to gain an unfair advantage over qualified HUBZone small businesses."
"This settlement sends a strong message that the government will not tolerate fraud in the HUBZone or any other SBA program, and that we will pursue civil fraud and all other remedies against those who seek to obtain government contracts through false statements," said SBA Inspector General Peggy E. Gustafson.
"This case represents the cooperative effort of SBA�s Offices of the General Counsel and the Inspector General and the Department of Justice to uncover and remedy fraud in our procurement programs," said SBA General Counsel Sara Lipscomb.
Assistant Attorney General West thanked the Justice Department�s Civil Division, the SBA Office of General Counsel, and the SBA Office of Inspector General for the collaboration that resulted in the settlement announced today.
[Image: Quantum Dynamics, Inc.]
United States Files Complaint Against Oracle Alleging Contract Fraud
WASHINGTON � The United States has intervened and filed a complaint under the False Claims Act against Oracle Corporation and Oracle America Inc. The government alleges that Oracle defrauded the United States on a General Services Administration (GSA) software contract that was in effect from 1998 to 2006 and involved hundreds of millions of dollars in sales.
Under the contract, GSA used Oracle�s disclosures about its commercial sales practices to negotiate the minimum discounts for government agencies who bought Oracle software. The contract required Oracle to update GSA when commercial discounts improved and extend the same improved discounts to government customers. The suit contends that Oracle misrepresented its true commercial sales practices, ultimately leading to government customers receiving deals far inferior to those Oracle gave commercial customers.
"We take seriously allegations that a government contractor has dealt dishonestly with the United States," said Tony West, Assistant Attorney General for the Civil Division of the Department of Justice. "When contractors misrepresent their business practices to the government, taxpayers suffer."
The suit was originally filed on by Paul Frascella, Senior Director of Contract Services at Oracle. The False Claims Act allows private citizens with knowledge of fraud to file whistleblower suits on behalf of the United States and share in any recovery. If the United States intervenes in the action and proves that a defendant has knowingly submitted false claims, it is entitled to recover three times the damage that resulted and a penalty of $5,500 to $11,000 per claim.
Assistant Attorney General West acknowledged the investigative efforts of the Justice Department�s Civil Division, the U.S. Attorney�s Office for the Eastern District of Virginia, and the General Services Administration�s Office of Inspector General. The Civil Division and the U.S. Attorney�s Office for the Eastern District of Virginia will litigate this matter on the government�s behalf. The suit is United States ex rel. Frascella v. Oracle Corp. et al., No. 1:07cv:529 (E.D. Va.).
This case was investigated as part of a National Procurement Fraud Initiative. In October 2006, the Deputy Attorney General announced the formation of a National Procurement Fraud Task Force designed to promote the early detection, identification, prevention and prosecution of procurement fraud associated with the increase in government contracting activity for national security and other government programs. The Procurement Fraud Task Force is chaired by the Assistant Attorney General for the Criminal Division and includes the Civil Division, the U.S. Attorneys� Offices, the FBI, the U.S. Inspectors General community and a number of other federal law enforcement agencies. This case, as well as others brought by members of the task force, demonstrate the Justice Department�s commitment to helping ensure the integrity of the government procurement process.
[Image: Flickr]
Promoters of Sham Tax Elimination Scheme Sentenced for Tax Fraud in Florida
WASHINGTON - Four of eight promoters of a fraudulent tax- and debt-elimination scheme have been sentenced to length prison terms for their roles in tax fraud, wire fraud and money laundering, the Justice Department and Internal Revenue Service (IRS) announced today. The remaining four will be sentenced over the next two months.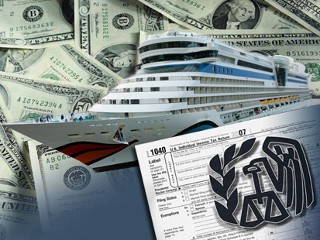 On March 31, 2010, a federal jury returned guilty verdicts against eight people, following a month-long trial in Pensacola, Fla., involving the promotion of fraudulent schemes through Pinnacle Quest International, also known as PQI and Quest International.
Arnold Ray Manansala of Renton, Wash., was sentenced to 12 years in prison for conspiracy to defraud the United States and to commit wire fraud, and conspiracy to commit money laundering. Dover Eugene Perry, also of Renton, was sentenced to 10 years in prison for conspiracy to defraud the United States and to commit wire fraud, and conspiracy to commit money laundering. Michael Guy Leonard of Troy, N.Y., was sentenced to nine years and one month in prison for conspiracy to defraud the United States and to commit wire fraud, and conspiracy to commit money laundering. Mark Daniel Leitner of Fairport, N.Y., was sentenced to five years in prison for conspiracy to defraud the United States and to commit wire fraud.
According to the evidence presented during trial, PQI was an umbrella organization for numerous vendors of tax and credit card debt elimination scams. Some of the PQI vendors, such as Southern Oregon Resource Center for Education (SORCE), sold bogus theories and strategies for tax evasion. For fees starting at $10,000, SORCE assisted its customers in the creation of a series of sham business entities in the United States and Panama. Other tax-related PQI vendors denied the legitimacy of the income tax system on various theories and provided customers with a "reliance defense" that consisted of a paper trail of frivolous correspondence which a client could allegedly use as evidence of good faith if the client were prosecuted.
At trial, the government established that other PQI vendors sold fraudulent schemes for eliminating credit card debt, the most successful of which was called Financial Solutions. Financial Solutions charged its customers thousands of dollars for a series of letters to send to credit card companies disputing the lawfulness of the underlying debt. The product was wholly ineffective, and customers typically were sued by their creditors and often forced into bankruptcy.
According to the evidence, another PQI vendor, MYICIS, operated as a sophisticated, computerized "warehouse bank." MYICIS was a single bank account in which customers pooled their money. MYICIS was promoted to PQI�s clients as a method to hide their assets from the IRS as a result of the pooled nature of the account. MYICIS had 3,000 clients and approximately $100 million in deposits over a three year period.
Evidence introduced at trial showed that PQI purported to sell only CDs and tickets to offshore conferences. However, PQI acted as a gateway to its fraudulent vendors. PQI clients seeking the tax evasion and debt elimination vendors could only access the product if they joined PQI first. The cost of membership ranged from $1,350 to $18,750, depending on the level of access. In May 2008, a federal district court issued a preliminary injunction against the promoters of Pinnacle Quest International.
"Today�s sentences send a powerful and unequivocal message to those who seek to evade and help others evade their taxes," said Acting Assistant Attorney General John A. DiCicco of the Justice Department�s Tax Division. "Those who promote tax fraud schemes will be investigated, prosecuted, and convicted, and they also face substantial prison sentences."
"Today�s sentencings serve as a reminder that IRS is committed to ensuring all taxpayers pay their fair share of taxes," said Victor S. O. Song, Chief, IRS Criminal Investigation. "There is no secret formula that can eliminate an individual�s tax obligations, and those who create elaborate schemes that have no purpose other than to mislead others and defraud the Internal Revenue Service will be prosecuted."
Mr. DiCicco thanked Department of Justice Trial Attorneys Michael Watling, Adam Hulbig and Jonathan Marx, as well as paralegal Iris Wright, for their hard work in prosecuting the case. Mr. DiCicco also thanked the team of IRS Special Agents who investigated the case, particularly Stephen Walker and Wendy Kilpatrick, for their efforts.
[Image: ABC News]
Three Indicted for Civil Rights Conspiracy, False Statements and Perjury in Connection with Cross-burning in Athens, Louisiana
WASHINGTON � A federal grand jury in Shreveport, La., returned an indictment yesterday charging Joshua James Moro, 23; Jeremy Matthew Moro, 33; and Sonya Marie Hart, 31, with offenses related to a cross-burning in Athens, La., in October 2008, near the home of an interracial couple. Another man, Daniel Danforth, was previously convicted by a federal jury for participating in the same cross-burning.
Joshua Moro was charged with one count of conspiring to interfere with another person�s civil rights. If convicted, he faces a maximum punishment of 10 years in prison for this charge. Joshua Moro, Jeremy Moro and Sonya Hart were each charged with one count each of making false statements to Special Agents of the FBI, and Joshua Moro and Sonya Hart were each charged with one count of perjury before the grand jury. The defendants face a maximum penalty of five years in prison for each of the false statements and perjury charges.
According to the indictment, between Oct. 23 and 26, 2008, Joshua Moro agreed with his cousin, Daniel Danforth, and another person known to the grand jury, to build, erect and burn a cross near the home of their cousin, the cousin�s African American boyfriend, her 11-year-old son and another relative who was believed to approve of the cousin�s interracial relationship. Specifically, Joshua Moro offered Danforth diesel fuel to use to burn the cross and sent a text message later that evening to see if Danforth and his other co-conspirator still needed the diesel. The indictment further alleges that Joshua Moro falsely denied his involvement in the cross-burning conspiracy to FBI agents and in his testimony before the grand jury. Finally, the indictment alleges that Jeremy Moro, whom Danforth invited to help burn the cross, and Sonya Hart, whose truck was used to help carry-out the cross-burning, falsely denied having any knowledge about the cross-burning.
Danforth was sentenced to 48 months in prison in May 2010 for his role in the cross-burning and attempted cover-up.
This case was investigated by the FBI. The case is being prosecuted by Assistant U.S. Attorney Mary J. Mudrick for the Western District of Louisiana and Trial Attorney Erin Aslan from the Justice Department�s Civil Rights Division.
The charges set forth in an indictment are merely accusations and the defendants are presumed innocent until proven guilty.
[Image: Crystal Eye Entertainment]
Former Deputy Sheriff from Choctaw County, Oklahoma, Sentenced for Civil Rights Violations
WASHINGTON � Former Choctaw County, Okla., deputy sheriff Ben Westley Milner was sentenced today in Muskogee, Okla., to serve 18 months in prison and two years supervised release for violating the civil rights of three men by assaulting them without legal justification.
In one incident, which took place on Oct. 31, 2005, Milner physically abused a truck driver following a traffic stop. In a second incident on Oct. 18, 2007, Milner assaulted two inmates at the Choctaw County Jail with a large axe handle. Milner was convicted on Sept. 24, 2009, on three counts of violating the civil rights of his victims and two counts of falsifying official reports.
"The investigation and prosecution of this case shows that the Department of Justice does not tolerate abuse of authority by the people we entrust to enforce our laws. The sentence imposed today shows the seriousness of these crimes," said Thomas E. Perez , Assistant Attorney General for the Civil Rights Division.
"Law enforcement officers in the Eastern District of Oklahoma are generally well trained in the exercise of reasonable force. We expect that they will survive the dangers inherent in their shifts of work and return home to their families and loved ones. But when those who swear to obey the law, violate that law, a day of reckoning awaits," said U.S. Attorney Sheldon J. Sperling for the Eastern District of Oklahoma.
The convictions resulted from an investigation by the Oklahoma Division of the FBI, and a prosecution by Assistant U.S. Attorney Dean Burris for the Eastern District of Oklahoma, and Trial Attorney Ryan McKinstry for the Civil Rights Division.
[Image: Flickr]
Louisiana Vessel Company Pleads Guilty to Dumping Oil on High Seas, Will Pay $2.1 Million in Penalties
WASHINGTON � Offshore Vessels LLC (OSV) has entered a plea of guilty to knowingly discharging waste oil from one of its vessels, in violation of the Act to Prevent Pollution from Ships (APPS), the Justice Department announced today. OSV, based in Louisiana, entered the plea in U.S. District Court in New Orleans.
OSV owned and operated the R/V Laurence M. (L.M.) Gould (R/V Gould). The R/V Gould is a 2,966 gross ton American-flagged vessel that served on a contractual basis as an ice-breaking research vessel for the National Science Foundation on research voyages to and from Antarctica. OSV admitted that on or about Sept. 8, 2005, on the high seas, R/V Gould crew members knowingly discharged oily wastewater from the bilge tank of the ship overboard, in violation APPS. Regulations under APPS require that oily wastewater be discharged only after it has been processed through an oily water separator, to ensure that the concentration of oil in the wastewater is below the legal limit.
OSV�s plea agreement with the Justice Department requires the company to pay a criminal fine of $1.75 million and remit a payment of $350,000 as community service to the National Marine Sanctuary Foundation, to be used for study of polar water pollution and protection of vulnerable marine ecosystems in the Antarctic region. OSV will also serve a period of probation for three years, during which it will be subject to an Environmental Compliance Plan.
"The Department of Justice will vigorously pursue all vessel companies, American and foreign, that deliberately violate the laws enacted to protect the oceans," said Assistant Attorney General Ignacia S. Moreno. "This case is particularly egregious because the defendant is an American company tasked with providing passage for the National Science Foundation in order for it to perform important environmental research in Antarctica."
The case was investigated by the U.S. Coast Guard Investigative Service and was prosecuted by Senior Trial Attorney Daniel Dooher, Environmental Crimes Section, Department of Justice; and Assistant U.S. Attorney Dorothy Manning Taylor, Eastern District of Louisiana.
[Image: OSV Laurence M. Gould in Antarctic waters. Photo by Andrew McDonnell, WHOI courtesy of Palmer Station Field Journal]